A Pitch for 99 Cents
In Recent years, 99 Cents Only stores began carrying produce. To this day, their selection continues to grow – at least for the one in my area.
Here are some photos from yelp: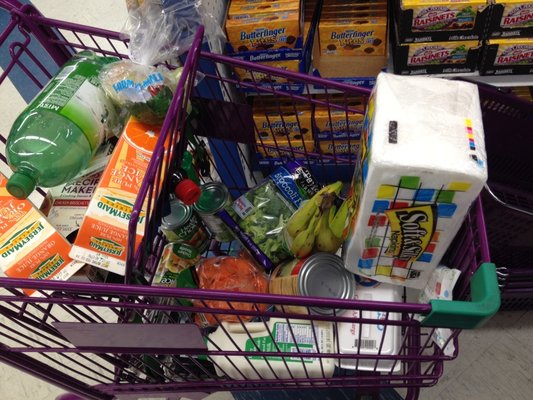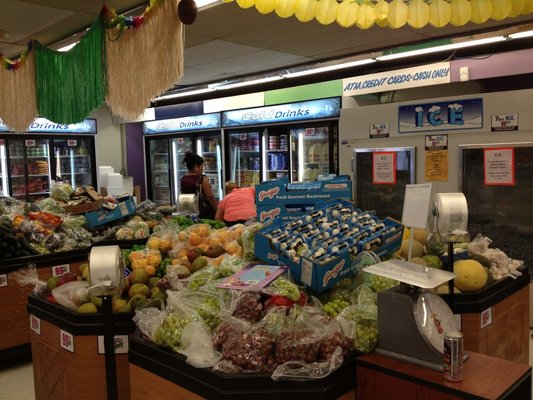 For those of you who have access to 99c Stores, it's a great time to get some fine and cheap produce! Cauliflower which has risen to near $2 a head are just a dollar there. You can also get some non-99c produce that is still cheaper than anywhere else. I've seen blueberries and strawberries for $1.99
In the frozen section you'll find a dozen eggs for $1.99 and a gallon of milk for about $3. I've always been amazed at how 99c thrives and it never seems to let up whether the economy is supposedly down or up.
On top of that you can continue to find improvements in the household goods sections. Kitchenware, hardware, even brand name hygiene products are everywhere. For example, I use V05 shampoo and conditioner which are usually $1.29 at CVS or anywhere else and are just a dollar here. Toothbrushes, towels, etc etc all for a dollar! I don't think you can beat 99c when it comes to disposable goods. Chips? I love chips! Bags that are clearly marked at $1.49 are sold for 99c here, it's crazy!
For those that need to be frugal and haven't given it a try, go! Even if you go for 5 items, you'll likely walk out with 15. It surprises me that I don't see as many homeless people shopping there. With just a few dollars they could cover their hygiene needs. Even clothing shows up every now and then. I guess they're too busy with liquor.
For my area it gets even better (or worse). In the past year or so, a Dollar Tree took over a closed down Mini Mall that stood for 20+ years in the next block, and then soon after, right across the street from there, a new "Broadway 99c" opened up, right across the street from an adjacent CVS WHICH IS CONNECTED TO A "98c and Up" Store that opened in the early 2000s. I guess business owners really do view Lincoln Heights as poor/ghetto because we literally have 4 Dollar stores sharing an intersection now. Not to mention an "Alex Discount Store" a few blocks down, and an additional "Dollar World" that took over an old Hollywood Video location. That makes 6 Dollar/Discount stores on Broadway. This reminds me of a nearby intersection with a gas station on every corner: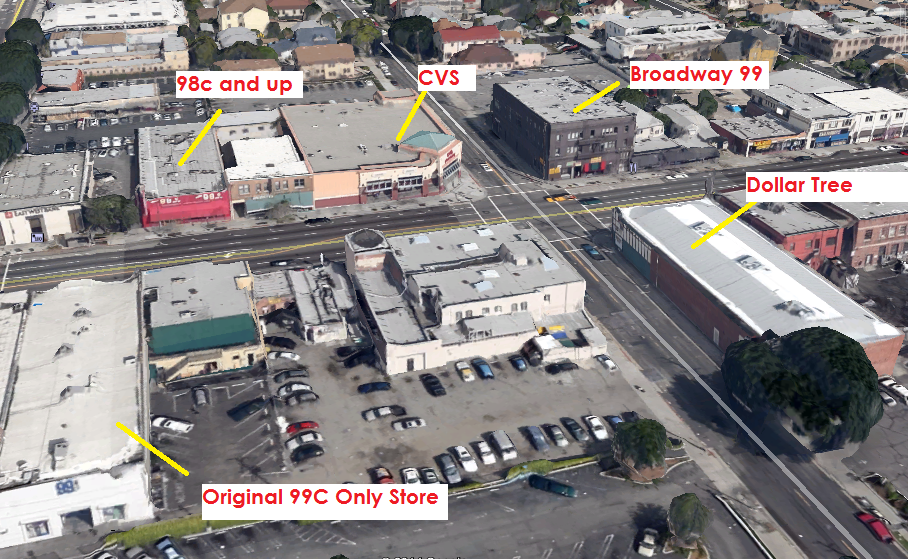 These stores have a lot of overlap, but still distinct products. The newer ones sell clothing you'd normally find at Chinatown so that's super convenient.
I really feel that you can get by very well on just $20 or less a week! Examples:
http://livebetter4less.blogspot.com/2011/08/99-cent-store-awesome-array-of-fresh.html
http://thefrugalfind.com/category/stores/big-box-stores/99-cents-store/
Of course the downside is that there is lots and lots of bad stuff you can get on top of healthy choices. I don't think I've seen anyone leave a 99 without either some kind of pastry, soda, or other guilty pleasures, not even myself!
So the next time you feel like going to Costco for food, or Ebay for some batteries/electronics, give your thrift store a try. If you don't have one around, well consider yourself living quite comfortably!